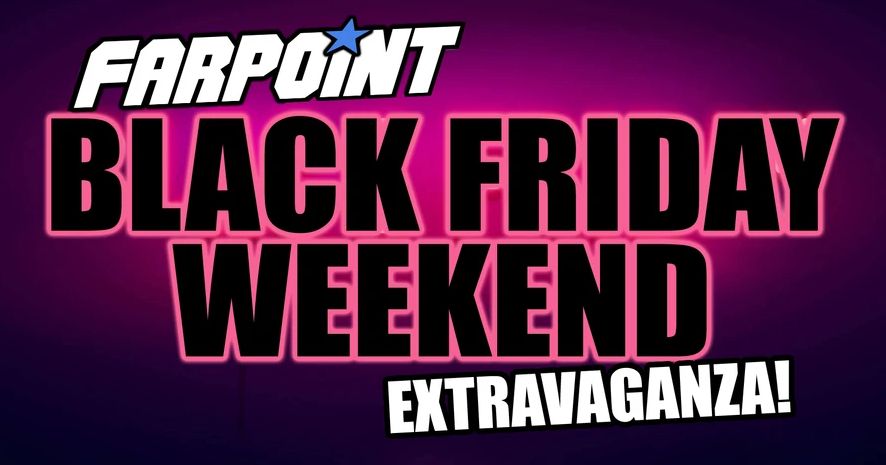 Our Black Friday Extravaganza!
In-store & online, Farpoint is READY to kickstart your holiday shopping with our Black Friday Weekend Extravaganza!
SPEND $100 IN-STORE, GET $10 FREE
For every $100 you spend in-store, you'll get a $10 gift certificate, good starting December 1!
AND that's stackable!! So, spend $200, get $20 in gift certificates, $300 = $30 right on up!
You can give those free Farpoint Bucks as a gift, or keep 'em all for yourself (we won't judge!!!)
NEW WEB-STORE LAUNCH & 10% OFF
We are SUPER EXCITED to announce the BLACK FRIDAY LAUNCH of our NEW ONLINE WEB-STORE!


FarpointToys.com
has always been our online home, but starting Black Friday, it'll also be the premiere place to buy awesome vintage collectibles on the web!
If us having our very own web-store isn't reason enough to celebrate, we're also giving everyone who shops there during Black Friday - Cyber Monday 10% OFF EVERYTHING!
YES, EVERY COLLECTIBLE ON THE SITE WILL BE 10% OFF, All BLACK FRIDAY WEEKEND right through CYBER MONDAY at 11:59 PM EST!!
Just use coupon code BLACKFRIDAY2021!
ALL DOTTED ITEMS IN-STORE - BUY 2, GET 1 FREE!
Normally $1, $3, $5, $8 & $10, all our Pink, Orange, Green, Blue & Gray Dot Items in-store will be BUY 2, GET 1 FREE all weekend! A great selection of Comics, Graphic Novels, Toys, Records & More are included so come stock up on some great Stocking Stuffers or grab a few things for yourself!
SOCIAL-MEDIA-ONLY DEALS OF THE DAY
Stay tuned-in to our SOCIAL MEDIA all weekend for super-special, insane-crazy DEALS OF THE DAY that will be 1 and done - just be the lucky FIRST PERSON to CLAIM the deal to make it YOURS!
IN-STORE HOLIDAY WISHLIST SIGNUPS
While you're visiting us at the shop, be sure to fill out one of our Farpoint Wishlists!
What's a Farpoint Wishlist? It's just like a registry, but for collectors!
Fill one out and we keep it on file, then send your family and friends in to shop for you - it's a no-fuss way to be SURE they're getting you THE PERFECT GIFT with ZERO STRESS!
We'll also have EXTENDED HOURS Friday - Sunday so you have more time to shop!
NO supply chain issues here at Farpoint, just stop in early or stay late to get what the collector in your life needs for the holidays - even if that collector is YOU!
So, whether you're into Black Friday in-store deals, Cyber Monday online steals or shopping local for Small Business Saturday, Farpoint has got ya covered this year!
See you Black Friday!
---
Older Post
The Spider-Man: No Way Home Trailer Is Finally Here!

Newer Post
A Good Read For A Good Deed Holiday Toy & Food Drive