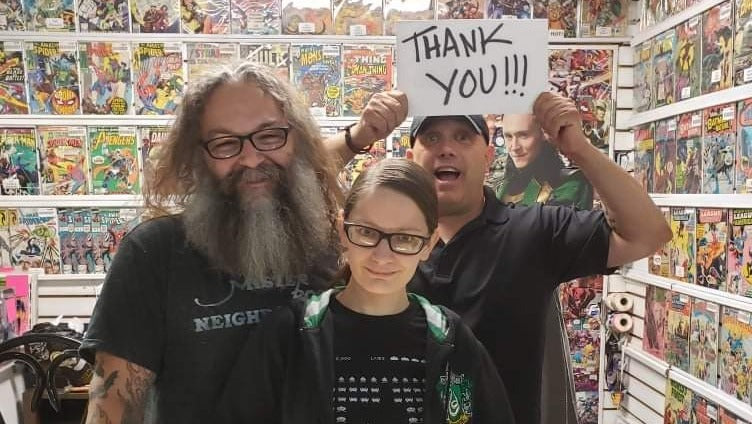 We Are Finally Reopen!
We sat down to put together a Thank You wrap up post about our grand reopening and toy show, and quickly realized that this is much more than a "Hey thanks, we had a great event" post.
This weekend was the culmination of 18 MONTHS of survival, struggle, support and love.
How do you sum that up in just a few words?
It feels like an impossible task.
We started to put together a list of individuals to thank, but quickly realized that this post would turn into a phone book-like list of credits.
Farpoint owes literally everything to all of you.
We continue to be amazed that so many people care about us and what we do, and that we are still relevant to our community, both global and local.
It was great celebrating our grand reopening with the It's A Toy Show party. We are so thankful for the perfect weather and for everyone who came, from around the corner or from up to 5 states away, to celebrate with us.
What a way to kick off the next chapter in the Farpoint story!
We realize not many small businesses could survive 18 months with their doors shut. We're so grateful that we were able to remain relevant and important to so many of you for so long. Instead of receeding, our community - the Farpoint Family - has GROWN!
So - how do you wrap up a year and a half of being closed? How do you summarize 18 months including a pandemic, a fire, an overwhelming outpouring of love and support that cemented our resolve to not just rebuild but be bigger and better, national TV exposure, award nominations, newspaper articles, podcasts, radio shows, livestreams, features, interviews? 18 months of long days and sleepless nights, of struggle, stress, fear and support?
How do you summarize what we've been through and survived only to come out better on the other side?
Spoilers: you can't! We can go on and on and ON and still not capture how grateful we are to be - and this is certainly an obviously metaphor - a phoenix, rising from some literal ashes.
Because of all of YOU.
You came to the store and helped us clean up. You mowed the lawn. You swept, you scrubbed, you showed up and stayed for hours to help us price and process product. You lent us tools. You bought t-shirts. You sent us cards and letters of encouragement. You joined our VIP group. You donated to our GoFundMe. You laughed with us weekly on Bartertown. You called, emailed, messaged and wrote to ask us what you could do to help. You fed us. You kept us stocked with coffee, espresso and whiskey sours. You shared our posts and told your friends about us. You told us you were proud of us. You made us new signs, stickers, decals and marketing. You helped us hang them. You worked extra hours and came on your days off to help out. You helped us keep costs down and hooked us up with repair materials we needed. You worked on computers. You checked in on us. You packed boxes. You bought stuff. You sold us stuff. You gave us stuff. You donated to our community food drive and helped us help others in need. You watched us on TV, read about us in the paper. You gave us your time, your good thoughts and good vibes.You told us we mattered.
You helped us rebuild. You helped us keep going.
You cared.
All this and much more - you know who you are.
We had such an amazing grand reopening. It was a true whirlwind and overwhelmingly successful, especially if you count friends and loved ones coming out in droves to give their love and support as success.
So, here's to Farpoint's future!
We are forever grateful for you all!
Thank you all so much!
---
Older Post
Our Episode of A Toy Store Near You Is Out Now!

Newer Post
Netflix's Cowboy Bebop Looks AMAZING